In this blog I will try to describe a variety of topics, including discussions of particular images in some detail. No attempt will be to be overly technical in the discussions, but in general tell a little about the subject, the techniques used to capture the subject, and information on the printing process and print. I hope this information is of interest to provide extra information to those who would like to know more about a given subject, technique, or image. Of course, feel free to contact me, or just give me a call. Enjoy!
I will also use this blog to provide first hand notices of new images when they are available, locations, exhibits, and general topics of interest.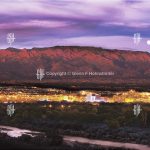 This image was created to commemorate the Albuquerque TriCentennial and the Closing Ceremony held October 6, 2006, which followed an 18-month City celebration. The unique battery-powered LED lights on Sandia Crest were only operated the evening of October 6 under special arrangements. Continue reading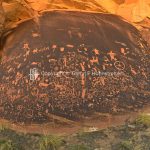 Newspaper Rock
is a Utah state monument featuring a 200 square foot rock panel carved with over 650 rock art designs, thus forming one of the largest known collections of petroglyphs.
Continue reading