The Sandias: Albuqueque's Icon ©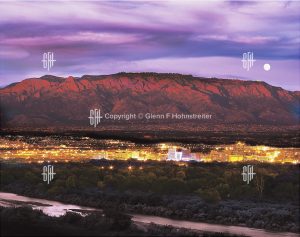 This image was created to commemorate the Albuquerque TriCentennial and the Closing Ceremony held October 6, 2006, which followed an 18-month City celebration. The unique battery-powered LED lights on Sandia Crest were only operated the evening of October 6 under special arrangements.
I was very pleased to create this image for the City of Albuquerque. I had wanted to depict the beauty of Albuquerque in such a photograph for over a decade. When commissioned by Jerry Geist, El Heffe of the Albuquerque TriCentennial, to depict the City with the closing ceremony lights in a meaningful manner, I visualized the final image immediately. I wanted to capture the uniqueness of Albuquerque with its Rio Grande, the Bosque, the downtown region, the heights, and of course Sandia Mountain as outlined by the special lights. The full moon that occurred on October 6 was a welcome addition. I wanted to create an image that was clearly Albuquerque, and Sandia Mountain is certainly Albuquerque's Icon.
This image of Albuquerque has been viewed and published widely throughout the United States. It retains popularity to this day as a photographic depiction of Albuquerque in magazines, news publications, corporate websites, and former Albuquerque residents to hang in their homes as fond reminders of their time here.
The creation and post-production phase to produce this image required over 15 months effort. Bruce Shortz was the Photoshop wizard, and LeRoy Perea aided me in the photographic image-gathering phase by site selection and photographic backup. No fewer than 20 other individuals and organizations also contributed significantly to this project.