The Image: Newspaper Rock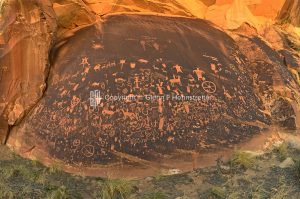 Newspaper Rock
is a Utah state monument featuring a 200 square foot rock panel carved with over 650 rock art designs, thus forming one of the largest known collections of petroglyphs.
The petroglyphs were carved by Native Americans during both the prehistoric and historic periods. The petroglyphs were created by ancestral Puebloan people living, farming, and hunting along the Puerco River between 650 and 2,000 years ago. Some of the ancient artists may have lived at Puerco Pueblo, located less than one mile north of this site.The older art is attributed to the ancient Puebloan people who inhabited this region for approximately two thousand years, from 100 B.C. to 1540 A.D. The more recent art (lighter in color) is attributed to the Ute people who still live in the Four Corners area.The drawings on the rock are of different animals, human figures, and symbols. These carvings include pictures of deer, buffalo, pronghorn antelope, and riders on horses. The pictures at
Newspaper Rock
were inscribed into the dark coating on the rock, called desert varnish. The ancient artists produced the many types of figures and patterns by carefully pecking the coated rock surfaces with sharpened tools to remove the desert varnish and expose the lighter rock beneath. The older figures are themselves becoming darker in color as new varnish slowly develops.
The Photograph
This image was obtained using the Gigapan© System that enabled multiple individual high resolution images to be taken in small areas of the Newspaper Rock. These images were pasted together, or "stitched" using a variety of software programs. Gigapan Stich© was mainly the program of choice, although extensive Adobe Photoshop CC© work was entailed. Over 100 separate images were taken, each one at 36 MegaPixels, resulting in a final composite image of over 3 GigaPixels. The post processing work entailed several days of blending and refining.
The Panorama
This panorama of
Newspaper Rock
is available in many custom sizes with the most spectacular size being 30 x 48 inches. Printed on the highest grade canvas media, this giclee image is also laminated for UV protection and for enhancement of the image. The image is then stretcher-bar framed, with or without a bounding frame.